(About 1988)
Size : about 410 x 65 mm



Metric scale, Inch scale,
Pitch scales for 6,8 and 17.1 characters per Inch


The marker slider features the Charly Chaplin motiv of the late 80s.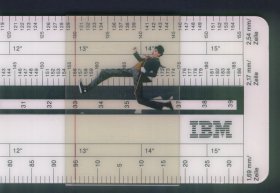 I use this thing almost daily. The most useful of the IBM "give-aways" ...
Got it after some ProPrinter and 5201 / 5202 technical training.